Metro 2
®*

Processor / Stacking Service

Third party processing/Stacking services are used by companies who are unable to report directly (in-house); to the credit bureaus or businesses who want to use our easy credit reporting up-load services.

How to report credit using a third-party processor/stacking service:
Obtain a Data Furnishers or Service Agreement & Subscriber code from each Credit Bureau (Equifax, Experian, Innovis, TransUnion) to which you will be using the third-party processing/stacking service.
Meet the account reporting minimums for each bureau for processing/stacking services.
All accounts must meet the standards defined in the Metro 2 Credit Reporting Resource Guide

®*

.
Use Credit Manager for data accuracy which complies with the Metro 2 format standards and for easy uploads to our processing service.
For additional information: How To Report Credit
Please Note: Consumers (Individuals) reporting personal loans are not eligible to use this service.
Third Party Processing Data Flow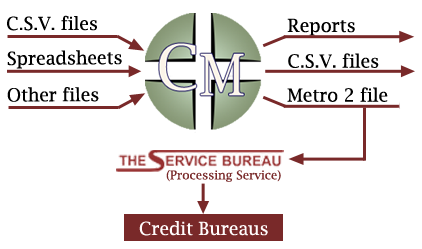 Our prompt credit reporting service, forwards accounts to the credit bureaus, Equifax, Experian, Innovis and TransUnion, on a weekly basis. This provides the quickest updates possible. The Service Bureau also provides extensive Metro 2® compliance checks with error reports and archives the accounts we forward for 12 months.
Processing Fees
United States
Metro 2

®

Reporting to one credit bureau

$

*
Reporting to two credit bureaus

$

*
Reporting to three credit bureaus

$

*
Reporting to four credit bureaus

$

*
* Three month, non-refundable deposit is required.
Note: These charges apply to each batch of accounts, not each individual account. Processing fees are billed each time you upload a batch of accounts.
Processing fees are applicable up to 1200 accounts or 2MB. We will accept a larger number of accounts for $ per megabyte after the first 2MB. Note: Prices are subject to change and all services must be pre-paid.
The credit bureaus (Equifax, Experian, Innovis, TransUnion) require monthly updates when reporting through a processor or direct reporting.